Everyday App for Work
The mobile-first advanced people platform, team communication, and management tool that allow everyone to work better together.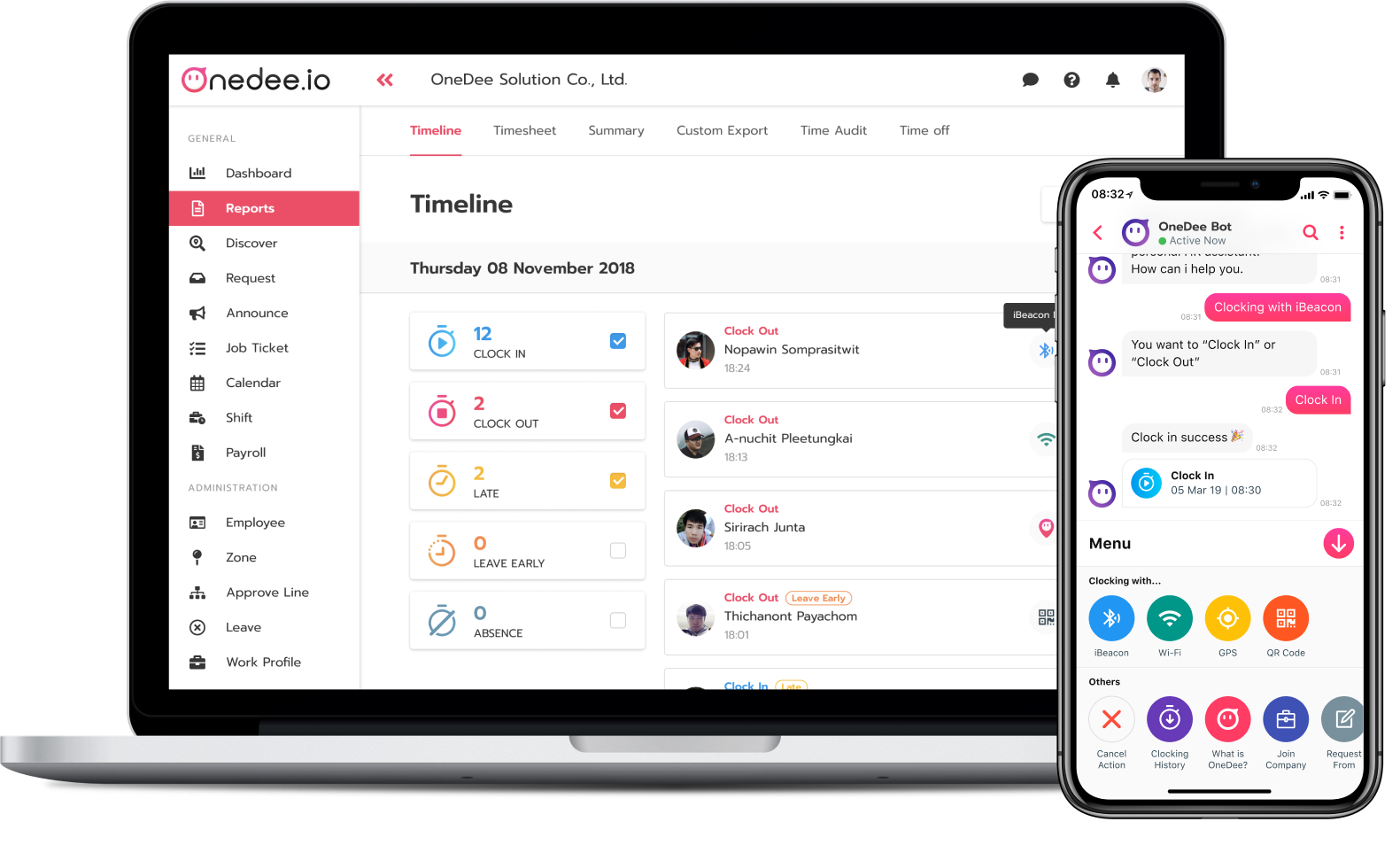 Time & Attendance
Easier for time attendance by using OneDee Chatbot for clocking in & out with iBeacon, Wi-Fi, GPS or QR Code.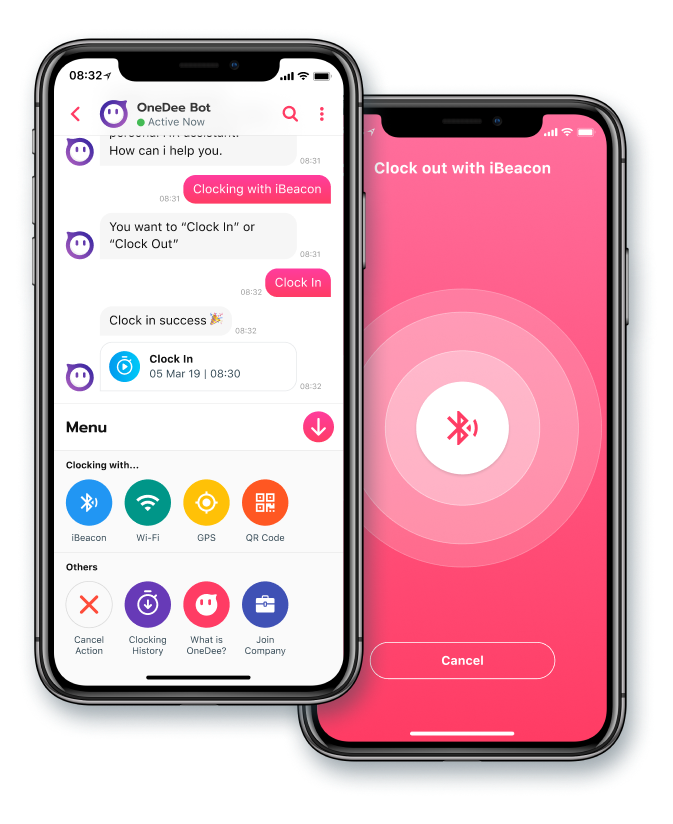 IBEACON
This can be specified in the location within 3 meters range with Bluetooth.

GPS
This is good for onsite service employees or salespeople who work outside the company.

WI-FI
This can be another choice for employee time attendance if you have a company Wi-Fi.

QR CODE
This QR code can be printed out for convenient use in many places.
AI Chatbot Technology
HR Chatbot app. allow you to work more friendly on a conversational interface as your own Personal HR Assistant
1. Better management experience – get specific employee data and performance immediately with online real-time reports.
2. Better employee experience – get a more quick and accurate response without waiting.
3. Better business – streamline management workflow, removing paperwork, saving time, cost and enhanced work productivity.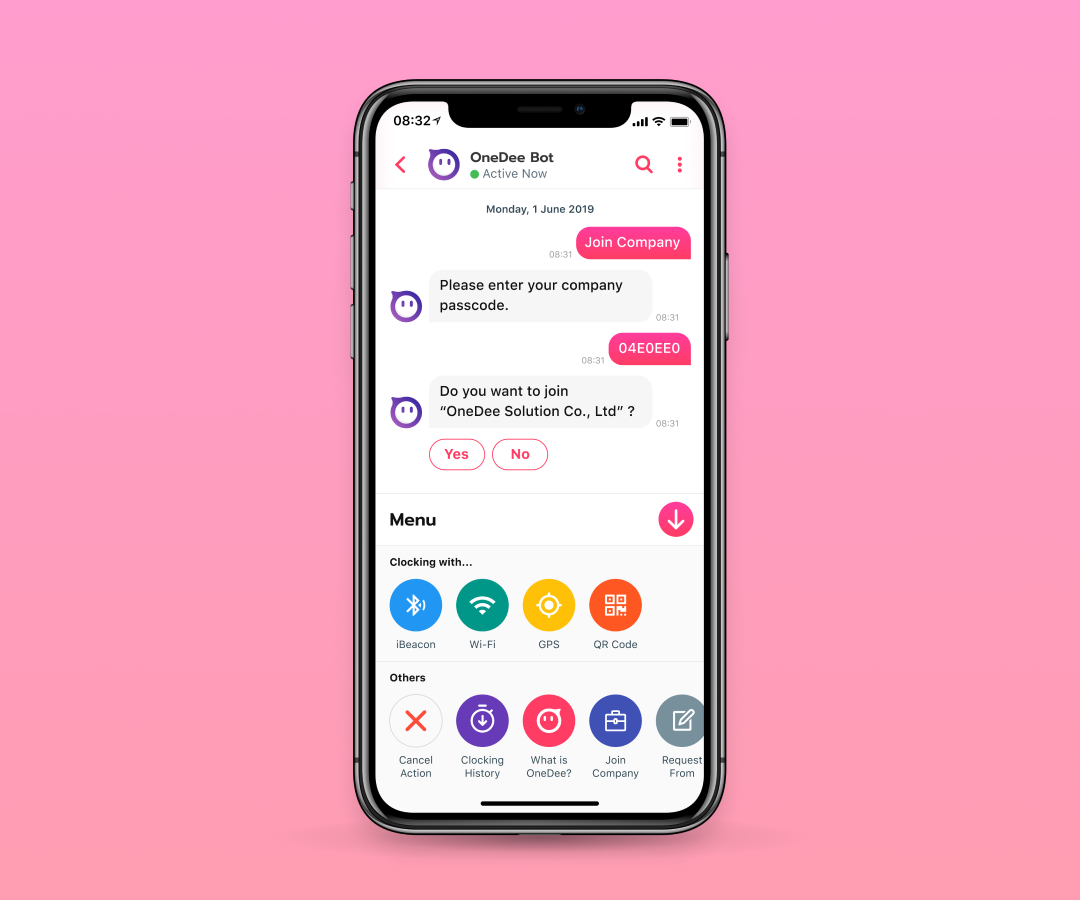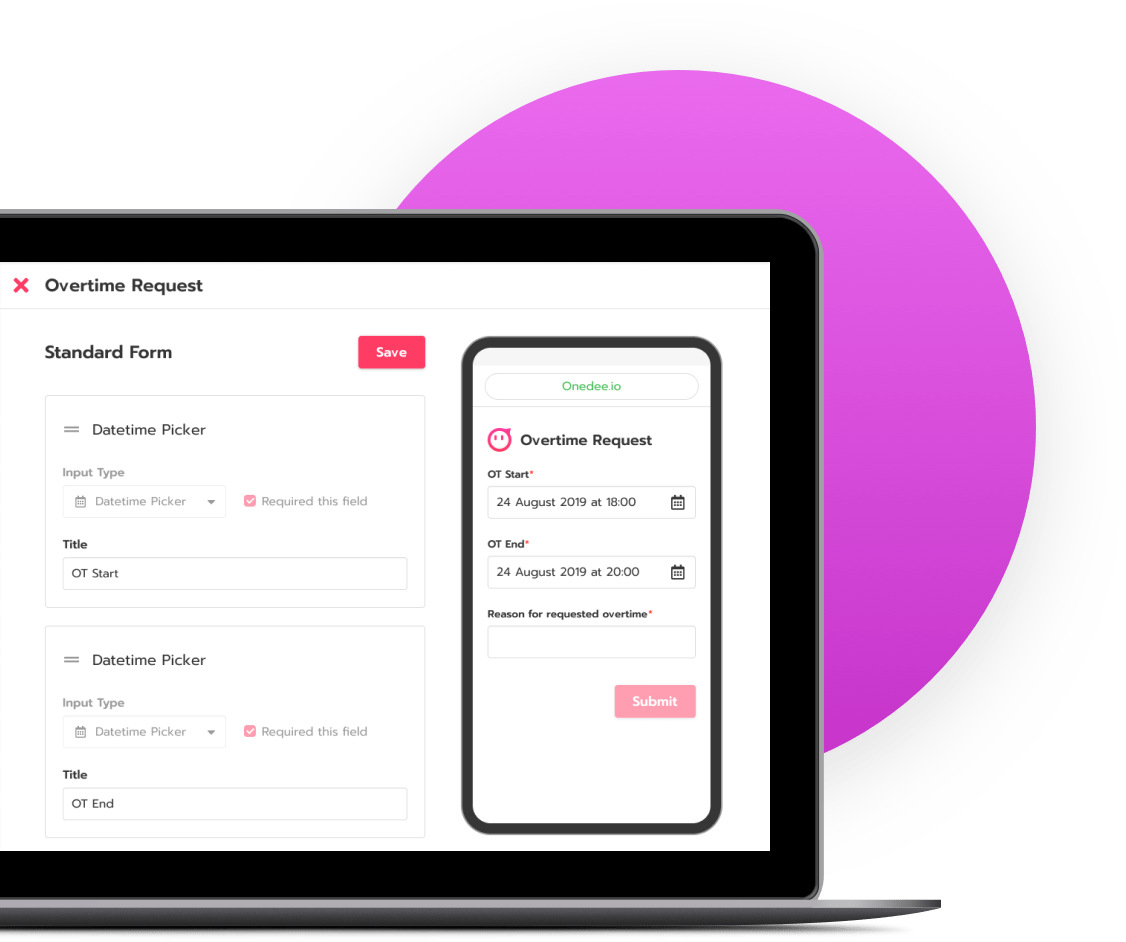 Forms Customization
Create any type of custom forms you need. Flexible and allows easy form styling using predefined field e.g. request forms, expense forms or ticket forms.
The employee could get the forms through a chatbot on the mobile app. and send the request to an approver.
Apply with any departments and can be used for a multi-level approve line.
Sign up for Free Trial Now!
Unlock your team's full potential and be the best version of teamwork
HR online with AI-Chatbot helps you manage your team more easily anywhere & anytime. Everyone always be connected and collaborative.
Group Chat (Coming Soon)
Keep more focusing on the work chat app. for the workplace. No interrupt from other personal chat apps.
Increasing your teamwork efficiency and collaboration by setting up your workgroup project and sending the direct or group message with OneDee chat room and task tracking features.
Share current tasks, project plan, attached file, Ask or get instant feedback while working.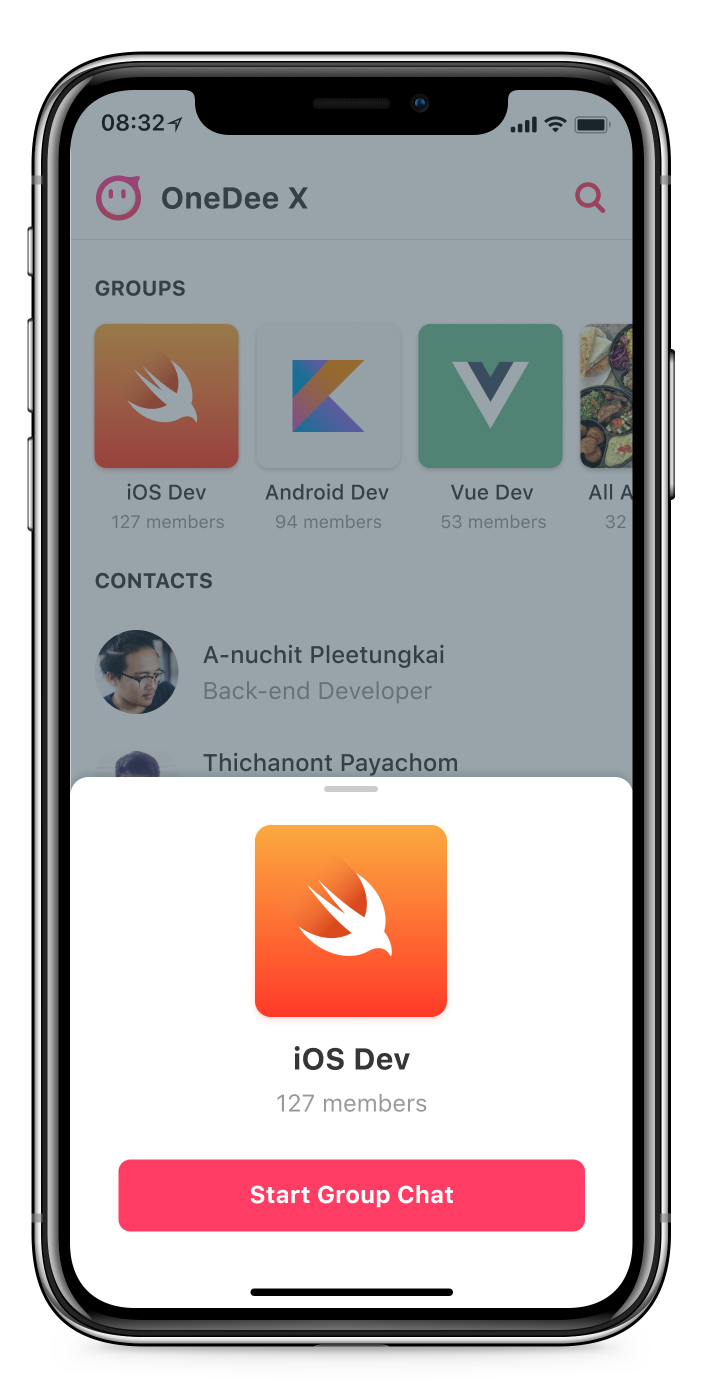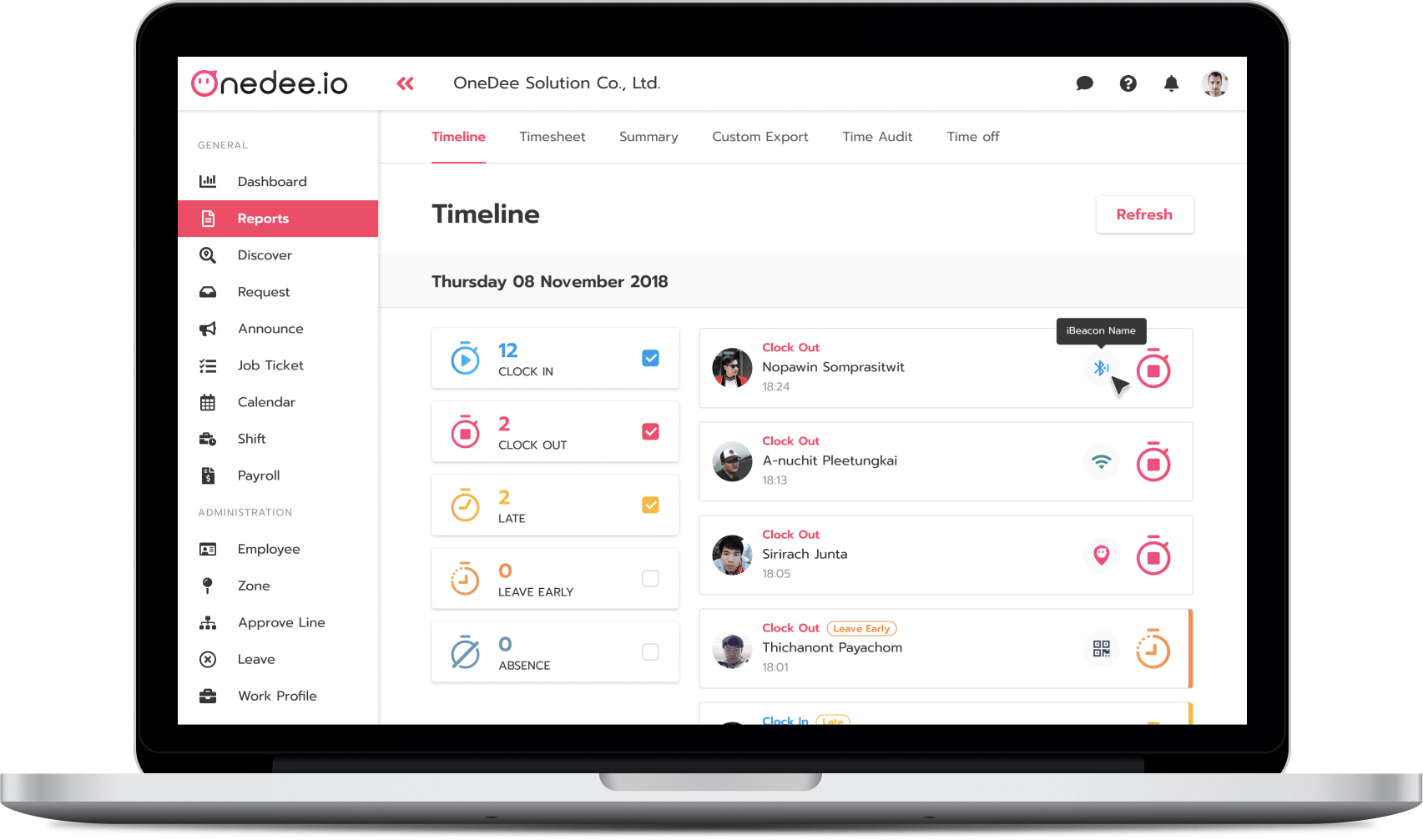 Real-Time Report
Saving your hour and paperless with auto calculate employee working hours and can be checking on your employee anywhere & anytime.
Get specific employee data and performance immediately with the online real-time reports.
Customized your data report as you desire. Easily for correcting data and export to your payrolls
Helps managers handle routine jobs, data analytic and seamless your management workflow.
Shift Management
Easy and simple building schedule in a minute. Create your new weekly shift or just do an auto-copy schedule. Publish and share your employee schedule.
Time-efficient, the roster can be done by the manager in each area or department. User-friendly and convenient.
Create & share & communicate instantly via a chatbot on the app. and notify your shift workers.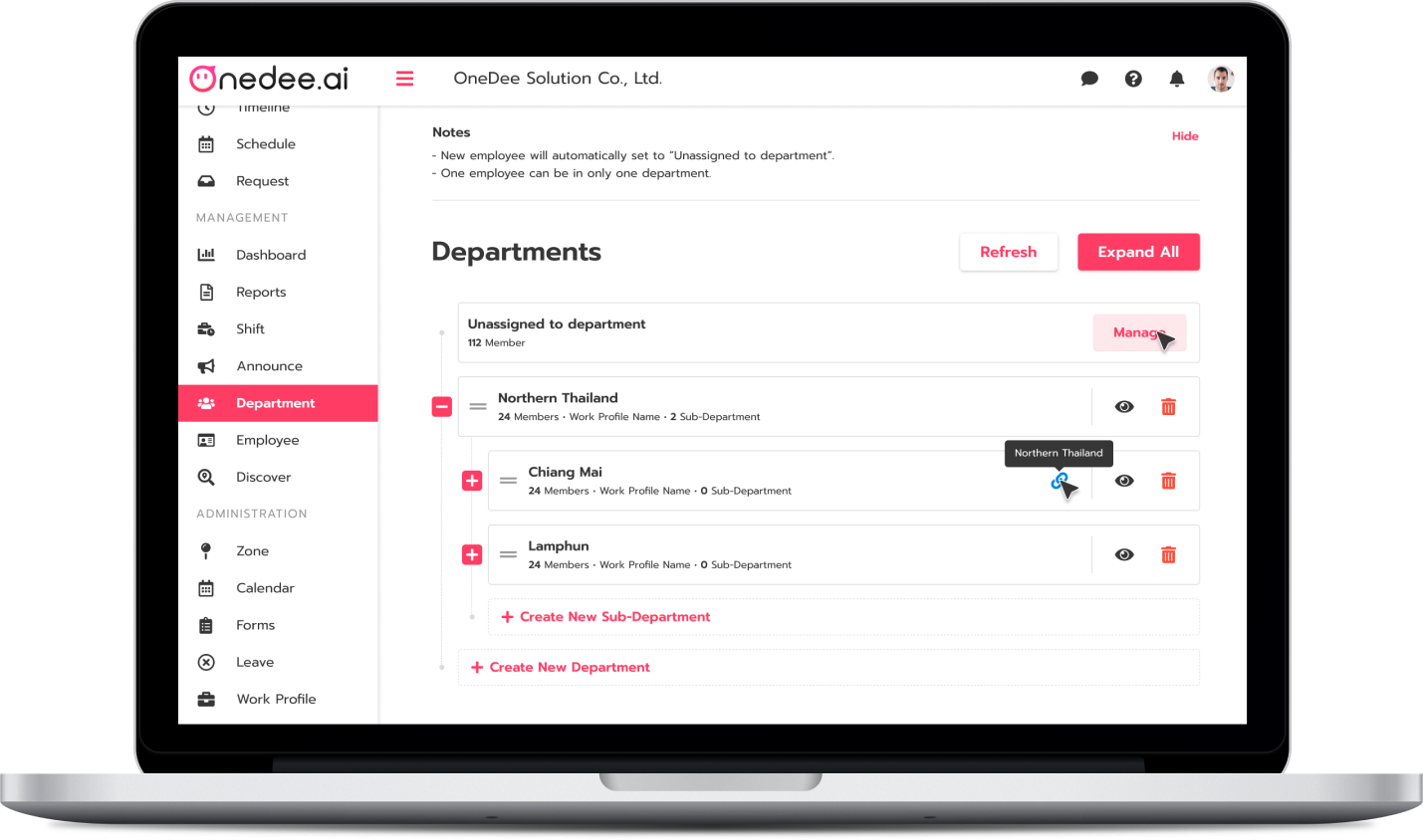 Department
Create separate departments or branches for your organization and get a centralized database.
Flexible to manage groups of your team with different types of employees.
Apply each department with different types of leave policies, department-based holidays, roster, team leads or responsibilities & duty limits, etc.
Approve Flow
Apply the multi-level approval function with your company approval workflow. It can be a separate approve line on each department's condition and suitable for any business.
Approver could easily approve online requesting form on a mobile app. e.g. online leave requests, expense forms or overtime forms.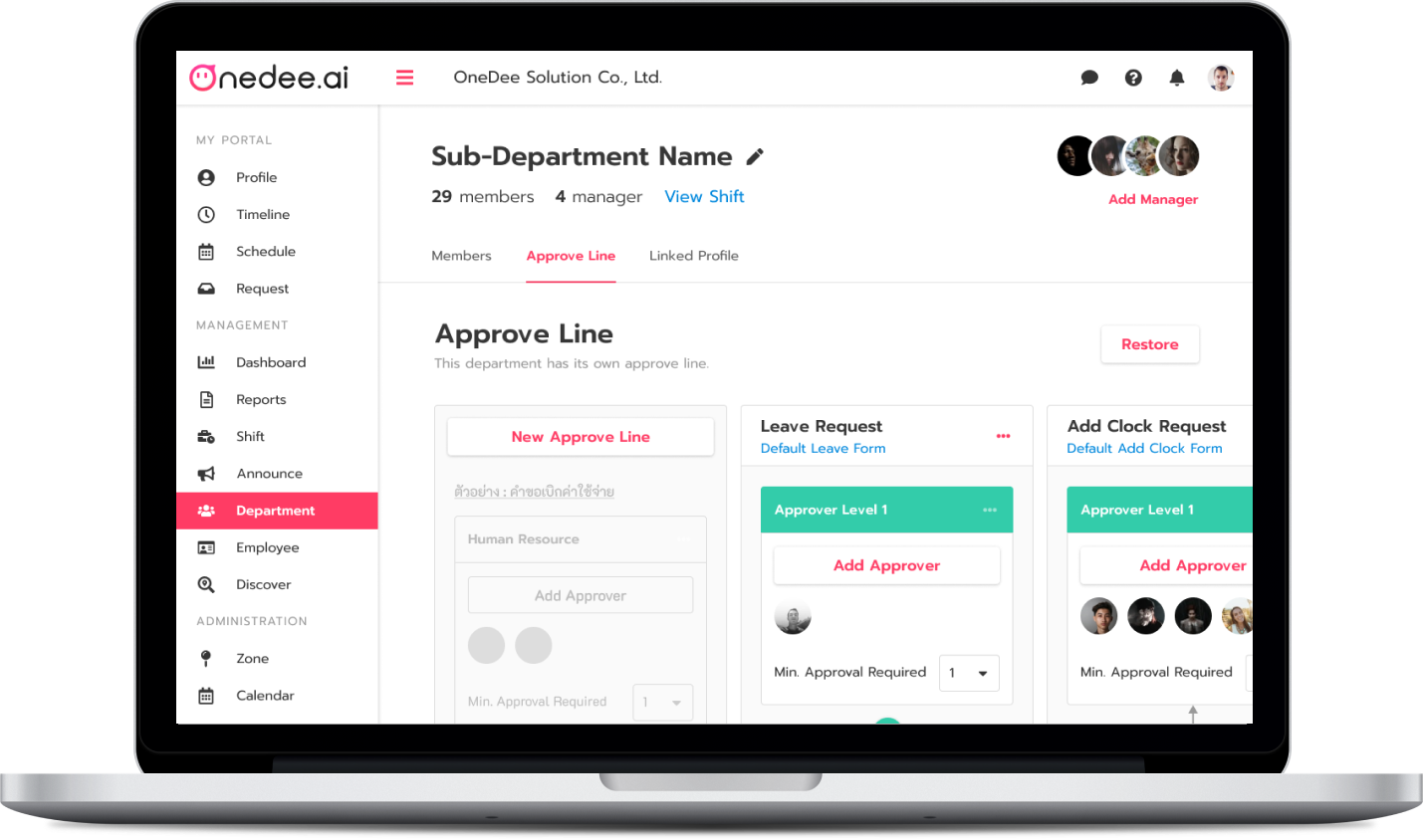 Mobile App
Available on iOS & Android